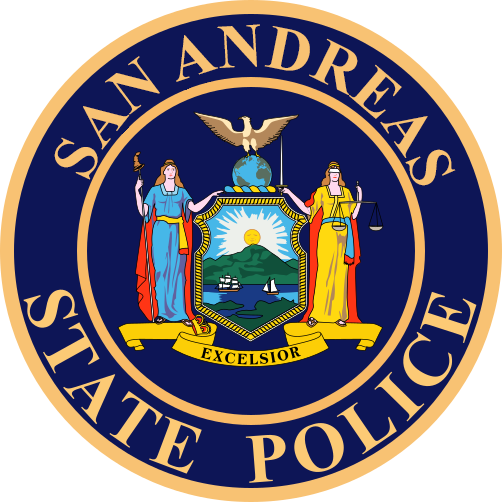 SAN ANDREAS STATE POLICE
DEPARTMENTAL PUBLICATION
Office of Administrative Services, SPHQ Public Relations Unit
1
The San Andreas State Police strives for excellence in all we do. Our duty to serve the community also brings our beloved service men with awards for their acts of bravery, justice and determination. We believe in rewarding our Troopers for their outstanding service among our community.
The Brummer Award, established in 1968 by Wall Street financier and philanthropist Bertram F. Brummer, is given annually for valor, heroism or outstanding performance of duty. It has been awarded 90 times, including 13 times posthumously. The highest award given by the department.
---
The Medal of Honor is awarded for individual acts of extraordinary bravery performed in the line of duty at extreme risk and danger to life. Issued to those who go beyond the call of duty to save lives.
---
To tho who successfully and intelligently perform an act of extraordinary heroism while engaged in personal combat with an armed adversary under circumstances of imminent personal hazard to life.
---
Acts of outstanding personal bravery intelligently performed in the line of duty at imminent personal hazard to life under circumstances evincing a disregard of personal consequences.
---
Distinguished Service Medal
Awarded to those who dedicated plenty to the department and shown to be active in the work force. The department also awards the Distinguished Service Medal posthumously to members of the service who suffer death as a result of illnesses associated with duty performed under unusual hazard.
---
Awarded to any member of the department who's been on killed in the line of duty.
---
Issued to any member who's been severely injured in the line of duty.
---
Superintendent's Commendation Award
This award is presented in recognition of extraordinary performance of duty or exceptional contributions to the San Andreas State Police. Usually given after receiving a commendation from the Major.
---
Tpr. William V. McDonagh Community Service Award
Tpr. McDonagh, killed in the line of duty, Dec.14,1975, was noted for his enthusiastic and active participation in community events. This award honors his memory by recognizing State Police Troopers who display special devotion to community service.
---
George M. Searle Memorial Award
Established in honor the late Deputy Superintendent George M. Searle, this award is presented annually to individuals who distinguish themselves in training and education.
---
Awarded to those who commit an act of intelligent and valuable police service demonstrating special faithfulness or perseverance and highly creditable acts of police service over a period of time.
---
Supervisor Recognition Awards
These awards acknowledge the outstanding work sworn supervisors in various units throughout the State Police do.
---
San Andreas State Police Certificates of Appreciation
State Police Certificates of Appreciation are presented to individuals who, over a period of time, have made a significant contribution to the criminal justice system or who have provided valuable assistance in a life threatening situation.
---
San Andreas State Officer of the Year Award
Awarded to any member of the State Police who's shown dedication to the community and department through hard work on the field. Voted by every team and trooper in the department.
---
Superintendent's Unit Citation
This award was established to recognize the outstanding efforts made by members of a particular unit or detail.
---
Superintendent's Traffic Safety Award
Presented annually in recognition of a member's commitment to saving lives and reducing accidents through public educationand enforcement.
---
Awarded to those who served under the United States Armed Forces and were honorably discharged.
---
Given to members of the department who shown great skill and intelligence with firearms during a critical situation.
---
Command Staff Certification
Issued to Command Staff members upon being passing the commissioned officer's scheme.
---
Awarded to troopers after successfully completing the Sergeant's Training Scheme and becoming Non-Commissioned Officers.
---
Special Operations Response Team Certification
Issued to members of the unit upon becoming full tactical Operators.
---
Issued to those with a pilot's license after being given access to the aircraft fleet and implemented in the unit.
---
Given to those who are certified by the Special Operations Response Team to carry and handle a rifle for duty purposes.
---
Given to State Troopers upon leaving their probationary stage, thus completing academy and thus being able to patrol by themselves.
---
About Us — News and Alerts — SASP Careers — Services
This serves as the first step in a long process to modernize our State Police force.


© 2019 San Andreas State Police. All Rights Reserved.